Day 18: Michigan; Greenland to Chassell: LAST DAY!! 50 miles

We rode our bikes the last day from Greenland a short way on M38 then on M26, stopping for a snack near Twin Lakes State Park at the beautiful Parkview Lodge and Grill (Krupps All Season Resort in Twin Lakes also has an awesome deli with fresh pasties and BBQ sandwiches) and on to Houghton.

If you have a mountain bike, you can ride all the way from just East of Greenland, near Mass City to Houghton on the 40 mile long Bill Nichols Trail on the old railroad gravel path.

From Houghton, we biked on US41 back home to Chassell to complete our circle tour of Lake Superior on our bicycles!

If a person has a mountain bike, you can take the bike trail from Houghton to Chassell along the old railway bed that follows between US41 and Portage Lake and canal. The bike trail is pebble gravel in and out of an arboreal tunnel, often along side the Lake so it is nice, cool route in the summer.

We were lucky with our bicycle equipment and had very few problems with the bikes all along our ride. When were were just a few miles from home, on the ride between Houghton and Chassell, Julie's tire started to leak air so she had to stop several times to fill the tire. The next morning, her bike tire was completely flat.

Some of our friends joined us as we approached Houghton and road into Chassell with us and celebrated with a Mackinac Island ice cream cone at the xxx dairy shop in Chassell.

Connie stopped by Dodgeville to see her sons,
Jon & Jason, working construction

Friends biked out to meet us:
Lori, Judy, Connie, SueEllen
On the next day, Day 19: Eagle Harbor to Chassell: Julie had decided to ride her bike from her home in Chassell with Mary to her home in Eagle Harbor, near the tip of the Keweenaw, 54 miles. They woke up to an extremely windy, cool day to ride so they decided to drive Mary home with her luggage in the car then ride their bikes back to Chassell so as to have the wind at their back for much of the way. Julie writes: "On our last day, Mary and I rode our bike from Eagle Harbor to Chassell. route we took was from Eagle Harbor, Eagle River, Five mile point road, Ahmeek, Calumet, McLain State Park, Hancock, Houghton, bike path downtown Houghton to near Niemala's private outing and then on to HWY 41 to Chassell to Half Moon Beach Road. The weather was chilly and had a terrific NORTH tail wind. That day the wind was up 30-40 miles per hour. With that powerful wind the pedaling was easier and actually felt like we were coasting most of the way. We took a lunch break eating at the Hut Inn in Kearsarge. We both had a bowl of Chili, hot chocolate and dessert. The white caps on the lake were huge." (Connie went to Sunday morning church instead of the extra ride up to the tip of the Keweenaw, a popular local ride.)

| | | |
| --- | --- | --- |
| Julie | | Mary |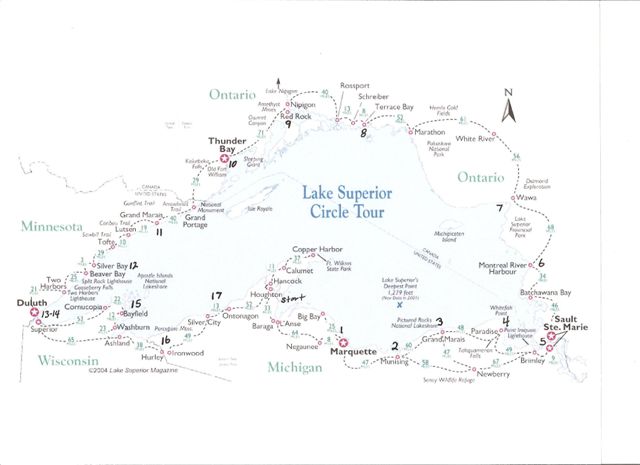 Map courtesy of Lake Superior Magazine
Day 1: Day 2: Day 3: Day 4: Day 5: Day 6: Day 7: Day 8: Day 9: Day 10: Day 11: Day 12: Day 13 & 14:
Day 15: Day 16: Day 17: Day 18:
HOME
Would we do it again??!!