Newspaper Coverage; Daily Mining Gazette,
Houghton Michigan:
There were 2 articles in the local newspaper about our trip:
See articles and pictures below; a few of the statements are not correct, but this is how it appeared in the paper:

Daily Mining Gazette, Houghton, Michigan
http://www.mininggazette.com/page/content.detail/id/501668.html?nav=5003
POSTED: August 30, 2008
"Wheels up"


Photo by Jane Nordberg, DMG

Article Photos
Jane Nordberg/Daily Mining Gazette
From left, Connie Julien, Mary Kuopus, Julie Hamar and Joan Hamar prepare to depart Wednesday morning on a bicycling tour of Lake Superior. The group hopes to raise awareness for motorists to watch out for cyclists on the roadways.

CHASSELL - It's 1,300 miles around Lake Superior, and Connie Julien is hoping to see all of it from her bicycle seat.
Julien, along with friends Julie Hamar and Mary Kuopus, departed Wednesday from Hamar's home in Chassell on a bicycle tour of the big lake.
"Last year, I probably rode 1,300 miles total all year," she said.
Most of that was on her mountain bike, riding on rough terrain in the woods. For the Lake Superior tour, she had to switch from the fat knobby tires of her mountain bike to the smooth tires of a road bike.
"I had to buy a new bike," she said. "It's totally different riding on the road."
Julien's previous touring experience includes a trip to the Black Hills area of South Dakota, providing scenery she described as spectacular.
"That's about 120 miles of beautiful scenery that goes right through the heart of the Black Hills," she said.
Her comrades' experience is more extensive, Julien said. Hamar, a retired schoolteacher, regularly bikes about 40 miles every day in the summer, and has traveled all over the world bicycling on a tandem with her mother, Joan Hamar. Kuopus, also, is no stranger to longer trips, according to Julien.
"I felt it was time I joined in the fun," Julien said.
Group members will rotate the duties of driving an accompanying vehicle packed with gear and supplies.
"It will depend who's the most tired, who needs a rest," Julie Hamar said.
While Julien has explored much of the Lake Superior shoreline from Michigan, she's most looking forward to seeing it from the Canadian side.
"I've never done a circle tour, so I'm looking forward to the north shore," she said.
The tour is something the group has wanted to do, for the sheer enjoyment of it but also to present a message.
"I hope we'll have some fun, but it's also about raising awareness," Julien said. "We want to stress how important it is to make room for bicycles on the roads."
She hopes the group's presence in various communities will help make those in charge of new road construction be aware of the need for a bike path or a wider shoulder.
She'd like to see more bike paths separate from the road similar to a 100-mile stretch north of Duluth, but currently that's the exception rather than the rule, she said.
"There are some places where the shoulder just pinches off, and then you're dealing not only with regular road traffic, but a lot of truck traffic, too," she said. "Lake Superior is so beautiful, we'd like to see more separate bike paths next to roads to help cyclists take advantage of a circle tour."
Getting ready for their departure Wednesday, Kuopus checked the silver-dollar-sized mirror clipped to the side of her helmet.
"I love this thing," she said. "It really helps to see the traffic behind me, especially a big truck."
Kuopus also likes her new toe warmers, slipping the stretchy fabric over the tops of her biking shoes during Wednesday morning's chill.
"I was raised here, but now that I live in Arizona I find that I get cold easier," she said. "I used to use (plastic wrap), but these are a lot snazzier, and work better."
Although Sept. 15 is the approximate date for the group's return, Kuopus suspected there may be some delays along the way.
"I think we'll have to stop at every bike shop on the way to see if there's any toys we don't have," she said.
Julien said the women just look forward to having some fun.
"There will be a lot of laughs," she said. "And probably a lot of sore muscles, too."
End

in the news again: http://www.mininggazette.com/page/content.detail/id/501737.html?nav=5006
"Halfway home: Trio checks in on bike tour"
Monday, Sept 8th, 2008
CHASSELL - The Lake Superior bicycling trio is halfway home.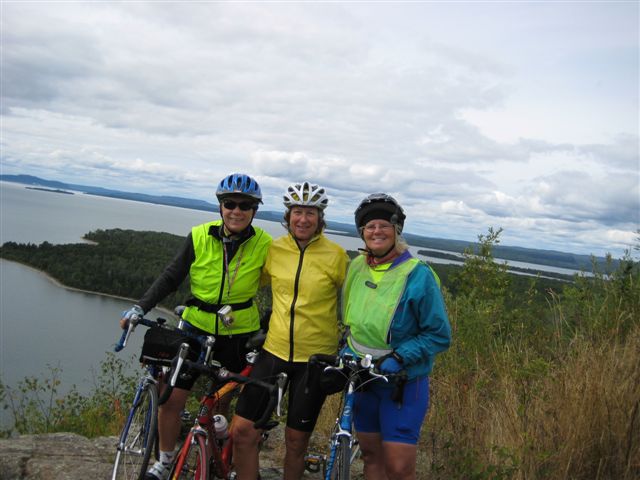 Photo with Connie's camera by nice tourist at Kama Bay lookout: Mary, Julie, Connie
Bicyclists Connie Julien, Mary Kuopus and Julie Hamar left Chassell Aug. 27 on a 1,300-mile bicycling tour of Lake Superior and have been keeping those in the Keweenaw apprised of their progress.
"We had many, many hill climbs over the last three days, during Canada's two hottest days of the year," Julien wrote in an e-mail to The Daily Mining Gazette last week of scorching temperatures over the Labor Day weekend.
The trio had cycled through Terrace Bay, Ontario, with the trip providing tremendous scenery, Julien said.
"The Canadian lake road is beautiful, but not good for biking," Julien said. One of the purposes of the trip was to raise awareness for motorists and bicyclists to share the road. That's proven to be a point well worth making, she said.
"The trucks often do not move over and the shoulder we are riding on is getting smaller than 2 feet across," she said. "We have all had close calls with trucks."
By Thursday, the cyclists had reached Kama Bay, considered the northernmost point of Lake Superior.
"It was downright dangerous the last 8 miles from Nipigon going west where we are staying the night in Red Rock," Julien wrote Thursday.
The point appears to be directly north of the Keweenaw, Julien said, and offered spectacular views.
"There is a lookout point way up high on a mountain," she said. "Just beautiful."
Also, the temperatures have radically changed.
"It's getting to be about 45 degrees in the morning so it has cooled off real quickly," Julien wrote.
In Red Rock, Joan Hamar planned to join the trio, riding a tandem bicycle with her daughter, Julie, for the next 250 miles to Duluth or beyond.
"We are past the halfway point now and really enjoying ourselves," Julien said.
The cyclists expect to be back in Chassell by about Sept. 15.
End
Day 1: Day 2: Day 3: Day 4: Day 5: Day 6: Day 7: Day 8: Day 9: Day 10: Day 11: Day 12: Day 13 & 14: Day 15: Day 16: Day 17: Day 18:
HOME